Book directly on our site with new, more flexible cancellation conditions for more peace of mind and take advantage of the

'ADAR'

cancellation insurance that we offer.

VILLA RENTAL IN SOUTH CORSICA
Our 3-star tourist residence is located 4 km south of Porto-Vecchio in the green setting of a magnificent pine forest located 900 m from the famous Santa Giulia beach.
THE VILLAS OF THE TOURIST RESIDENCE CLASSED 3 STARS BY ATOUT FRANCE IN SANTA GIULIA
4 TYPES OF VILLAS, CLOSE TO PORTO-VECCHIO
We offer 16 new or completely renovated villas combining comfort and modernity all classified in 3 stars, they can accommodate from 2 to 5 people.
You will have access to our heated swimming pool, to our deckchair and parasols reserved for the exclusive use of the residents as well as to the park under the shade of our hundred-year-old pines.

BOOK YOUR VILLA NOW AT THE BEST PRICE
Book your villa directly or contact us if you have any questions or special wishes for your stay!
WE ALSO PROPOSE ON THE ROUTE OF PALOMBAGGIA
OUR 4 INDEPENDENT VILLAS WITH PRIVATE POOLS
THE DOMAIN 'LES VILLAS DE PALOMBAGGIA'
Discover our 2 large independent villas accommodating 6 to 8 people, with a private pool each. for an unforgettable holiday. You will quickly access the most beautiful beaches of Santa Giulia and Palombbagia.
JEWEL OF THE MEDITERRANEAN … PORTO-VECCHIO 'THE CITY OF SALT'

TAKE ADVANTAGE OF YOUR STAY TO VISIT PORTO-VECCHIO OR "THE CITY OF SALT", WHICH HAS TWO PARTS:
its marina with many restaurants and cafes facing the port and its old town testifying to its historical past. Without forgetting its beaches among the most beautiful in France and Europe with turquoise waters and fine sand.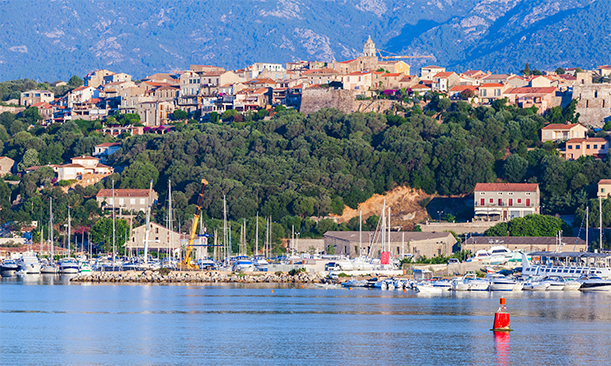 LES PINS DE SANTA GIULIA THANKS YOU FOR YOUR CONFIDENCE
"Magnificent stay for the first time in Corsica. Superb setting, tranquility and cleanliness that allow total rest. Ideally located, beaches and shops not too far away. A welcome, availability and kindness that make you happy. Thank you and look forward to coming back"
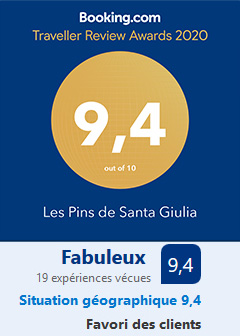 Résidence Les Pins de Santa Giulia
9.2 / 10
Average rate on 25 reviews
"

Séjour d'une semaine très agréable. Nous avons particulièrement apprécié la situation géographique. La proximité de la plage de Giulia et le calme de la résidence.

(See more...)

"

"

Séjour d'une semaine très agréable. Nous avons particulièrement apprécié la situation géographique. La proximité de la plage de Giulia et le calme de la résidence.

(See less...)

"
"

C'est la 3è fois que nous passons d'agréables vacances dans la résidence.. Les villas sont très confortables , il ne manque rien, la literie est exceptionnelle La piscine est top.. Patrick ELTAB...

(See more...)

"

"

C'est la 3è fois que nous passons d'agréables vacances dans la résidence.. Les villas sont très confortables , il ne manque rien, la literie est exceptionnelle La piscine est top.. Patrick ELTABET et Romane sont toujours aux petits soins et très disponibles., nous les remercions pour leur gentillesse. Nous vous invitons à découvrir la plage de porto novo à 5 mn en voiture en direction de Bonifacio, se garer à la carrière et emprunter le petit sentier sur la gauche, il faut marcher 30 mn et être bien chaussés mais quelle récompense, belle plage sauvage quasi déserte. Nous reviendrons, c'est certain.

(See less...)

"
"

Séjour parfait, juste la Wifi qui n'est pas top c'est vraiment la seule chose à améliorer mais peut-être qu'en Corse ça n'est pas aussi aisé que sur le Continent

(See more...)

"

"

Séjour parfait, juste la Wifi qui n'est pas top c'est vraiment la seule chose à améliorer mais peut-être qu'en Corse ça n'est pas aussi aisé que sur le Continent

(See less...)

"
"

Résidence idéale pour les personnes qui souhaitent être au calme. Le proximité des plages est un vrai plus. Romane est vraiment accueillante. Il manque peut-être un lieu de vie (jeux, bar...) ma...

(See more...)

"

"

Résidence idéale pour les personnes qui souhaitent être au calme. Le proximité des plages est un vrai plus. Romane est vraiment accueillante. Il manque peut-être un lieu de vie (jeux, bar...) mais la piscine est vraiment très belle.

(See less...)

"